These are sites related to domain names and the domain name industry that we think you will find especially useful.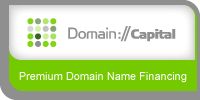 Domain Capital is the first and only financial services company to offer financing to businesses based on the inherent and recognized value of premium domain names. Our vision is to innovate exciting new financial products and services designed to enable entrepreneurs to exploit new business models.
Domain Capital's services are designed for:
-Existing domain name owners who need a ready source of asset-based, working capital.
-Prospective domain name owners who wish to acquire premium domain names for their own use or to trade in the domain name aftermarket: An important source of leveraged capital, reduced time to market, a partner with an understanding of the Internet.
-Internet registry and transaction brokers: Domain Capital shortens the sales cycle and provides a potential source of high margin revenue, while it provides an important, value-added service to their clients.




The Industry News Magazine




Targeted TRAFFIC brings the domain industry's who's who together for over 3 days of seminars, networking, and some of the best food anywhere!




If you wish to link to us, you may use this image. Other banner sizes are available here.